Acupuncture
We design a customized treatment plan for
each individual.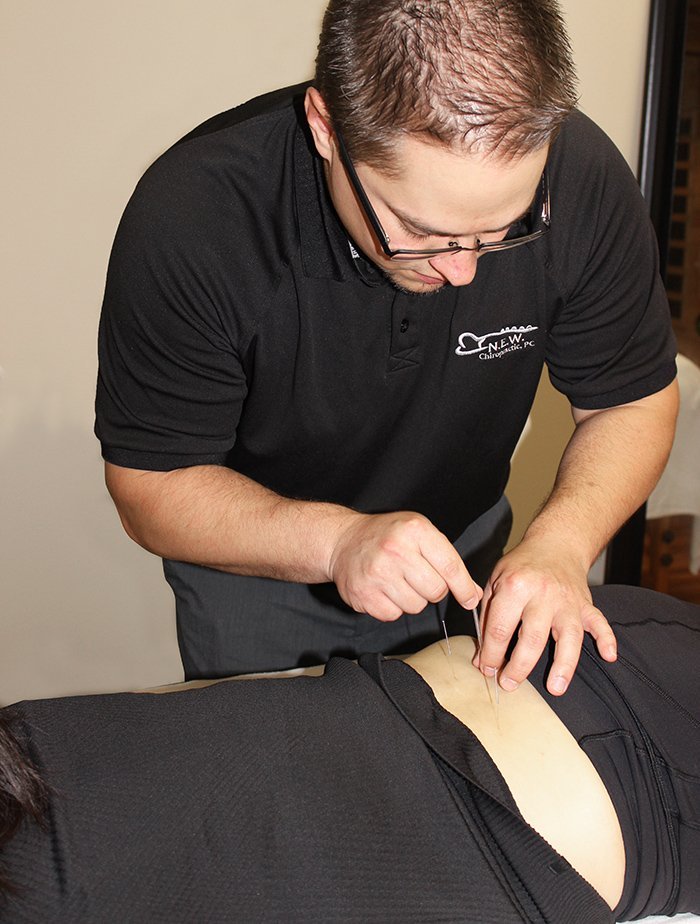 About Acupuncture
Whether it originated with the ancient Greeks or the Chinese, acupuncture is about 2000 years old. It involves the use of sharp, thin needles that are inserted in the body at very specific points.
In the East, it's considered a method for balancing life's energy force, called qi (chee). The qi (or chi) is thought to flow through meridians (pathways) in your body. Like a key in a lock, acupuncture is thought to unlock the gates and open up the flow of qi. In that way, acupuncture adjusts and rebalances the qi.
In the United States, many doctors believe that acupuncture stimulates, nerves, muscles, and connective tissue to release natural opioids (endorphins) and other natural painkillers.
Conditions Treated With Acupuncture
Whatever the reason it works, acupuncture is used for a variety of treatments.
According to WebMD, acupuncture treats: arthritis, back pain, neck pain, fibromyalgia, nerve pain, body aches, numbness, tingling and burning, headache, joint tenderness, menstrual cramps, as well as pain. Among other types of pains, it lists pain in the muscles, buttock, elbow, face, foot, hand, hip, jaw, knee, scalp, shoulder, thigh, wrist, and leg pain. It also lists sharp pain, shooting pain, and stiffness. Further acupuncture treatment is used to treat stress, anxiety, depression, mood changes, and difficulty sleeping. More and more, it is being used for wellness.
Similarly, the Mayo Clinic also recommends acupuncture for chemotherapy-induced and postoperative nausea and vomiting, dental pain, headache, including migraine, labor pain, low back pain, neck pain, osteoarthritis, menstrual cramps, and allergies. It is used to manage stress.
At N.E.W. Chiropractic, PC in Palatine, IL, Dr. James Stegner is certified in acupuncture. He has seen good success with patients who need suffer from pain, stress, anxiety, muscle tension, or difficulty sleeping.
Does insurance cover acupuncture?
We take Blue Cross Blue Shield PPO, and it currently doesn't cover acupuncture through a chiropractor. However, we have very affordable cash rates for out-of-pocket costs of acupuncture.
Does acupuncture hurt?
Acupuncture needles are not like sewing needles or injection needles. They are extremely thin—about the width of a strand of hair. Short (1/2-inch) needles are used for the ears, medium-size needles (1-inch) are used for the face, hands and feet, and long (1-1/2 inch) needles are used for legs or large muscle groups. Even the longest needles are about half the length of a blade of grass. It rarely hurts, and you may not know that the acupuncture needle has even been inserted.
Is Dr. James Stegner a licensed acupuncturist?
How long does acupuncture treatment take?
Typically, it takes about 20 to 30 minutes, depending on the number and placement of needles.
After Your Chiropractic Adjustment
Follow Dr. James' instructions on what to do after your chiropractic adjustment. He will likely advise you to do the following:
Drink water.
Use ice or heat as directed.
Avoid poor posture or sitting for long periods of time.
Follow his advice regarding your level and types of work and activities.
Do physical therapy exercises/stretches he may recommend at home.
Get adequate sleep.
If you have any questions, be sure to ask Dr. James.
Office  Hours
Mon, Wed, Fri —4:00pm – 9:00pm
Tue, Thu — by Appointment
Saturday — 9:00am – 3:00pm
Sunday — Closed
Severe Pain?
Text Dr. James:
"Our diverse approach to your health and well-being includes both Eastern and Western methods of healing to provide you with the best results possible."