Leg Pain
Do you have leg pain? Does it extend to your knee? Or shoot down your buttock or the back of your leg? Maybe you also have numbness.
If you have leg pain, you want it treated, fast. Chiropractor Dr. James Stegner understands how leg pain can interfere with your daily activities, and he wants to help.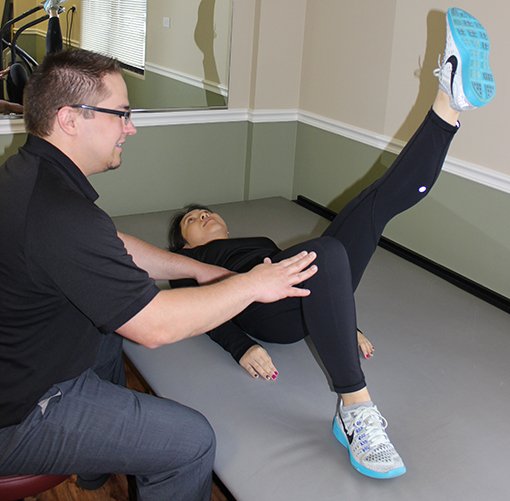 Leg Pain Causes
Leg pain can occur for a variety of reasons that are associated with the spine.
Leg Pain in Pregnancy
For example, leg pain in pregnancy is often due to the extra pressure on the front of the body and the spinal discs.
Discs (spongy, strong connective tissue between each segment of the spine) can be stressed with the additional weight of pregnancy. This is compounded by laxity of the ligaments during pregnancy. In turn, this taxes muscles and bones. In many cases, it can also lead to pressure on the nerves.
Additionally, this pressure on nerves can cause sciatica in pregnancy. Sciatica results from a pinching of a nerve called the sciatic nerve. It can feel like a burning, shooting pain down the leg or into the buttock. It can also be associated with numbness and tingling.
However, pregnancy isn't the only cause of leg pain.
Other Causes of Leg Pain
Weight gain and obesity can cause similar leg pain. Furthermore, many repetitive tasks can cause leg pain.
Leg pain at night can be related to circulatory or neurologic problems. In children or teens, it may also be "growing pains." Growing pains tend to occur in preschoolers and teens in the evening or during the night. The leg pain at night may awaken your child.
"I know what it's like to have back and leg pain that affect your ability to walk. If leg pain isn't obviously coming from the point of pain, we need to take time to look at other areas: the function of the leg, the pelvis, and the 'unaffected' leg."
Leg Pain Treatment
At N.E.W. Chiropractic, PC, Dr. James Stegner will begin with a complete assessment of your leg pain.
Leg Pain Assessment
Dr. James will check your spine and core for any dysfunction. He'll make sure your hips, knees, and ankles are aligned. Moreover, he'll check to see how your posture is affecting your leg pain. He also will ask if you're having other related issues besides the leg pain.
What's more, Dr. James will listen to what you tell him.
Your Unique Leg Pain Treatment Plan
Depending on what he hears from you and on the results of the assessment, Dr. James will develop your unique treatment plan with you.
With leg pain, diagnostic imaging may be a consideration and part of the plan.
Chiropractic Adjustments for Leg Pain
Another option that Dr. James may consider is chiropractic care. For example, he may do manual adjustments of the spine. Adjustments are gentle pressure that help move the bones into alignment. Furthermore, he may do chiropractic adjustments outside of the spine. These adjustments might involve the ankles, knees, or hips.
For pregnant women, he will do gentle adjustments. If you are in severe pain or are older or frail, he may use an activator to make adjustments—rather than using hands-on adjustment technique. An activator is a small hand-held instrument that delivers an impulse force to the bone to move it into alignment.
Physical Therapy for Leg Pain
Physical therapy is almost always part of a plan to ease leg pain.
If areas are tight, Dr. James may use range of motion exercises and stretches that are called the McKenzie Method.
Dr. James will instruct patients on a few simple exercises or stretches to relieve tension and help allow for pain-free movement.
He may also "pin and stretch" trigger points. This is called myofascial release. Fascia is the connective tissue around your bones, muscles, and nerves. Fascia can form tight areas that knot up under the skin and between muscles. Myofascial release is a way to pinpoint and stretch these knots, also called trigger points.
If areas are weak, Dr. James will develop a plan to strengthen them.
Dr. James says the key to proper treatment is to find the root source of pain.
If your pain is unbearable, text Dr. James at 224-828-4598
Frequently Asked Questions (FAQs)