Numbness
Do you have numbness or tingling?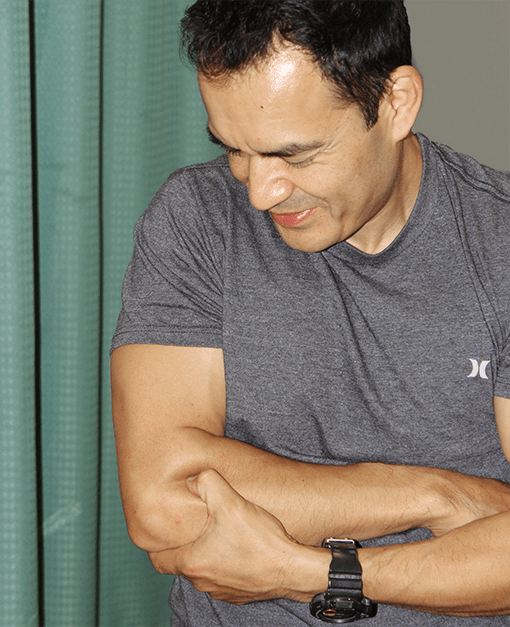 Numbness or Tingling
Dr. James Stegner of N.E.W. Chiropractic, PC in Palatine, IL specializes in treating pain, numbness, and tingling. Often these are caused by:
Auto accidents

Work injuries

Sports injuries
He provides compassionate chiropractic care for these patients because he has a clear understanding of how these patients are feeling. That's because he experienced pain, numbness, and tingling after a serious trampoline injury in high school. Link to story
Additionally, you should know that it's important to treat a problem of numbness or tingling when it first starts. The sooner you seek treatment, the more likely it is that Dr. James can help make these symptoms go away. Also, if the numbness and/or tingling comes and goes, it's more likely that the problem is treatable.
In the vast majority of cases, Dr. James can relieve the symptoms of pain, numbness and tingling.  However, continuous numbness that's lasted for years may be difficult to treat because of permanent nerve damage.
Causes of Numbness
Numbness and tingling often are caused by a neurologic or circulatory problem. The first thing Dr. James will do is listen to you. He'll ask you questions and assess the source of the numbness and tingling.
For example, in a long-time, heavy smoker, numbness in the legs may signal a circulatory problem rather than a chiropractic issue. In that case, Dr. James would recommend discontinuing smoking and following up with your primary care doctor and/or a specialist.
On the other hand, if your numbness and tingling are the results of an injury, accident, or overuse, chiropractic care may be helpful.
Numbness and Tingling of Hands
Numbness in Right Hand or Right Arm
If you have pain, numbness, or tingling in the right hand or right arm, the source of the problem could be your neck or upper spine. Alternatively, it could be a local problem in your hand—or it could stem anywhere in between your neck and your hand. For example, it could be carpal tunnel syndrome from overuse, such as typing on a keyboard.
Dr. James will take a thorough history and examine you to determine the source of your numbness or tingling.
Numbness in Left Arm
Similar to numbness in the right arm or right hand, numbness or tingling in the left arm or left hand needs to be assessed. Dr. James will determine the source of the pain. Is it circulatory? Is it a case for which you need to be referred to your primary care provider?
Almost always, Dr. James can help make the pain stop. If the numbness or tingling are not long-standing, they are often treatable as well.
Numbness in Legs or Numbness in Big Toe
Numbness in the legs, feet, or toe, may be due to a problem anywhere between the mid to low back. On the other hand, it may be due to a localized problem. In other words, the problem could be exactly where you're feeling the pain, numbness, or tingling.
The first step Dr. James will take is to listen to you. He will want to know:
How long you've had the problem

Whether the numbness, tingling and/or pain are constant, or if it comes and goes

How it began

Your physical symptoms

Whether or not you have other metabolic problems, such as diabetes
If you're unable to walk, Dr. James may recommend diagnostic imaging.
Often numbness and tingling can be caused from a pinched nerve. For example, a pinched sciatic nerve may cause shooting, burning pain down the buttock and back of the leg.
If you're a heavy smoker or have diabetes, Dr. James will likely refer you to your primary care physician and/or a specialist who can help co-manage your concerns.
"Because I've experienced this kind of pain, numbness, and tingling, I'm very tuned in. I know the cause of these symptoms. More important, I know the treatments that work. I consider it 'paying it forward.'"    
Treatment
In addition to a thorough history, Dr. James will run several tests. In this way, he can rule out various causes of numbness and tingling.
He also has a variety of treatments that can relieve pain and minimize numbness. These include the following:
TeslaMax®

Spinal decompression or traction therapy

Chiropractic adjustments

McKenzie Method

Myofascial release (MFR)

Whole-body vibration
TeslaMax®
The TeslaMax® is one of Dr. James' go-to treatments for numbness and tingling—whether in the arms, shoulders, hands, legs, or feet. Unlike other electrical stimulation devices, the TeslaMax® results in a more intense—but painless—contraction. It causes the muscles to relax and contract, creating more blood flow and sending more oxygen to the affected area. It can be likened to exercising without exerting yourself. Dr. James has found this treatment to be highly effective in treating cases of pain, numbness, and tingling.
Spinal Decompression or Traction
Spinal decompression is a gentle stretching of your spine. It takes pressure off the discs (gel-like cushions) between the bones in your spine. If you have a painful disc that is bulging or pinched, it can be relieved with gentle traction.
By stretching the upper spine or neck area, traction can relieve pressure that might be causing numbness or tingling in your arms or hands. By decompressing the lower spine, traction can relieve pressure on nerves and other structures that supply your buttocks, legs or feet. At the same time, this results in increased blood flow to the area, bringing nutrients, oxygen, and fluids to help the area heal.
Chiropractic Adjustments
Chiropractic adjustments help bring the spine back into proper alignment. In the case of numbness and tingling, this is almost always done as a manual adjustment—rather than using an instrument. In addition, Dr. James may also adjust areas in your arms or legs—called extraspinal (outside the spine) adjustments, if needed.
McKenzie Protocol
The McKenzie Method consists of gentle stretching and range of motion exercises that Dr. James can teach you at N.E.W. Chiropractic. Later, you can do these at home to continue to heal yourself and help prevent pain in the future. These stretching exercises can focus on the neck to relieve numbness, pain, and tingling in the arms or hands. Alternatively, they can focus on the lower back to relieve numbness and tingling in the legs.
Myofascial Release (MFR)
Fascia is connective tissue throughout your entire body. Myofascial release (MFR) is the massage and stretching of connective tissue. MFR in the neck can help release gripping shoulder pain, or pain and numbness in the forearms. MFR in the lower back can help relieve pain in the legs.
Whole-Body Vibration
The word "new" in N.E.W. Chiropractic stands for the natural education of wellness. N.E.W. Chiropractic has some of the newest types of medical technology. One piece of equipment that Dr. James offers provides whole-body vibration. First used in space programs, Dr. James reports that this is quite effective on numbness and tingling in the legs.
Frequently Asked Questions (FAQs)