Neck Pain
Is neck pain interfering with your life?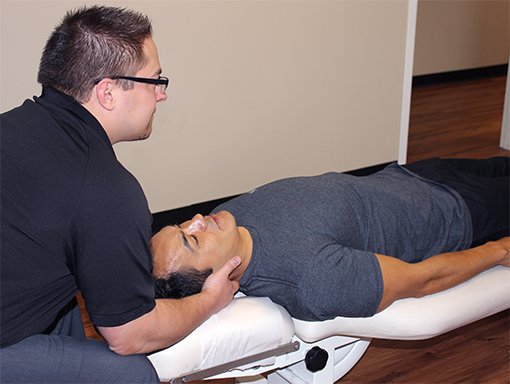 Neck Pain With Headache
Causes and Symptoms of Neck Pain With Headache
Neck pain with headache can occur for many reasons. Some of these include:
Car accident

Work injury or accident at work or home

Slipping

Falling

Hunching over a computer

Leaning forward and bending your head for your job (e.g., mechanics, chefs, dental hygienists, etc.)

Leaning or thrusting your head forward when talking to people

"Text" neck or spending a lot of time looking down at your phone

Sitting for long periods of time (e.g., at work, at home, driving, travelling)

Carrying a heavy backpack or purse on one side
Neck pain with headache can be associated with whiplash.
Treatment Options for Neck Pain With Headache
The treatment for neck pain with headache depends on Dr. James' initial evaluation and diagnosis of your condition. Some of the factors that enter into Dr. James' treatment decision might include whether or not:
He feels knots, tightness, discomfort, or inflammation in your neck
Your pain is aggravated by touching it
Your pain is sharp or dull
You have

numbness

or tingling
Your range of motion is good or limited
You have shooting pain
Your reflexes are good or poor
Severity of your headache
Your posture is making your neck pain worse
You woke up with the pain
Length of time you've had the neck pain
You're a child, teen, young adult, mature adult, or senior
Dr. James and N.E.W. Chiropractic often use more than one treatment to help patients quickly relieve neck pain and headache. In nearly all cases, N.E.W. Chiropractic will achieve relief of neck pain. Treatments might include reducing joint compression or restrictions in the neck and upper spine, acupuncture, myofascial release, and the TeslaMax®.
Reducing Restriction to Relieve Neck Pain
Gentle traction between the segments of the bone is often helpful in relieving neck pain. Traction means "the act of drawing or pulling." To relieve pressure, N.E.W. Chiropractic may choose to use a rolling massage table to gently stretch the spine. For neck pain, this can open up restricted areas of the upper spine. This, in turn, increases blood flow to the muscles and helps reduce inflammation.
It can increase your range of motion. For example, after gentle traction of your neck, you may be able to better move your head to the left or right, up or down.
Another way to relieve restriction in the neck is through chiropractic adjustments. For example, activator technique is one way to reduce restrictions in the neck. An activator is an effective device that quickly guides the bone back into alignment. At N.E.W. Chiropractic, we may opt for a hands-on chiropractic adjustment instead of using the activator. Both options can quickly relieve pain.
Acupuncture for Neck Pain Relief
The ancient art of acupuncture can relieve neck pain with headache.
Myofascial Release for Neck Pain
Fascia is connective tissue around your muscles, bones, and nerves. The fascia can form points of restriction, sometimes called trigger points. Trigger points can cause chronic pain. Myofascial release is the hands-on stretching of the fascia. This can increase blood flow and remove cell toxins. As a result, it can relieve the trigger point and the neck pain.
TeslaMax® for Neck Pain
At N.E.W. Chiropractic in Palatine, IL we have opted for a more advanced form of electric stimulation therapy. It is called the TeslaMax®. More than other types of electric stimulation devices, this machine causes the muscles in the neck to contract and relax without pain. This results in better blood flow. Essentially, the device exercises your muscles while you relax.
This treatment results in better blood flow, increases oxygen and hydration within the muscles, removes cell waste, and decreases inflammation.
McKenzie Protocol for Neck Pain
The McKenzie Method consists of gentle stretching and range of motion exercises. Dr. James can teach you these exercises at N.E.W. Chiropractic. Later, you can do these at home to continue to heal yourself. These stretching exercises may help prevent future neck pain.
"Neck pain can not only be very sensitive, but it also can take time to heal properly. Even though it may take some time, I want to know that each time I see patients after an auto accident or other traumatic injury, the condition is now better than the time before."
Neck Pain on Left Side or Neck Pain on Right Side
Of course, neck pain can occur without headache. What's more, you can have neck pain only on your left or your right side.
Causes and Symptoms of Neck Pain on One Side
Neck pain on one side can be due to trauma or injury, such as a car accident. However, it's often due to repetitive tasks that stresses one side of your body
Leaning forward and repeatedly bending your head to one side for your job (e.g., mail carriers, mechanics, chefs, dental hygienists, etc.)

Talking on the phone

Golfing

Positioning your computer screen off center (e.g., administrative assistants, office managers, call centers, sales)

Carrying a heavy backpack, child, or purse on one side
When an activity stresses neck muscles on only one side, that side can become stiff and/or painful. At times, it can even cause the head to be slightly off-center from the rest of your spine and body. When this area is off-center, other areas have to compensate and can, in turn, cause pain elsewhere.
Treatment of Neck Pain on Left Side or Neck Pain on Right Side
N.E.W. Chiropractic treatments for left- or right-side neck pain are often quite similar to that of neck pain with headache (see above). Of course, pain relief treatments may focus more on the left or right side of your neck depending on your symptoms.
Dr. James may choose the following:
Gentle traction
Chiropractic adjustments or activator techniques
Acupuncture
Myofascial release
TeslaMax®
McKenzie Method
Herniated Disc in Neck
A hernia is a bulge. Discs are the strong, spongy connective tissue between the bones of your spine. Sometimes a herniated disc may be called a slipped disc or a ruptured (broken/burst/bulged) disc.
Causes and Symptoms of a Herniated Disc in the Neck
Herniated discs in the neck are from repetitive tasks in which people flex and rotate the spine (e.g., golfing, work injury, personal injury). They can also be from an auto accident or injury. For a herniated disc in the neck, N.E.W. Chiropractic typically does the same initial testing as with other neck pain plus a series of additional tests.
Treatments for Herniated Discs
Dr. James understands the pain of having a herniated disc. He has a herniated disc from a gymnastic accident in high school.
He offers a variety of effective treatments to relieve your pain. His treatment for a herniated disc in the neck might involve:
Chiropractic adjustments

or activator techniques

Diagnostic imaging
Myofascial release (MFR)
Spinal Decompression/Traction Therapy
TeslaMax®
If you are suffering from intense pain from a herniated disc, text Dr. James for an appointment. He will respond quickly to get you in for treatment.
Frequently Asked Questions (FAQs)