Chiropractic Care
We design a customized treatment plan for each individual.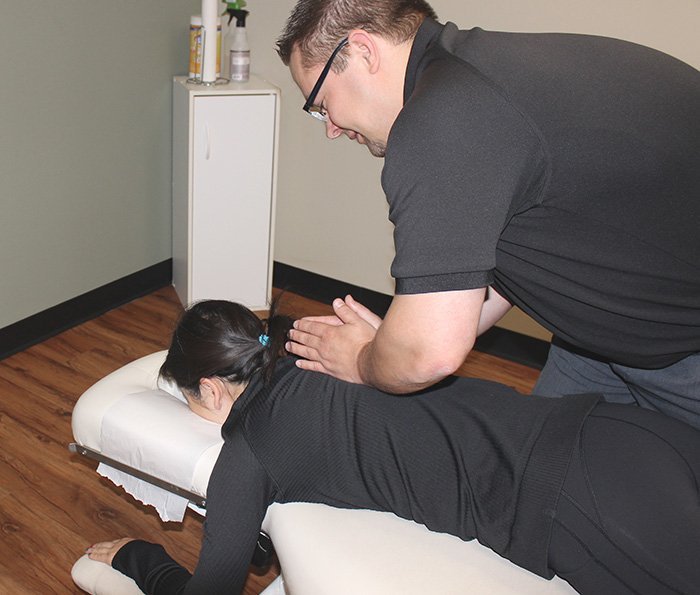 Your Chiropractic Care Assessment
Dr. James will begin your chiropractic care visit by compassionately listening to your concerns, needs, and fears. He has experienced significant pain, numbness, and tingling in his life after a trampoline accident in high school. This experience has made him an extremely caring doctor.
Besides listening to you, he will also assess your:
Range of motion in affected areas
Spine and back for tightness, discomfort, or inflammation
Bones and joints
Muscle strength and weakness
Reflexes and other nerve tests

Posture
Your Chiropractic Care Plan
After completing your assessment, Dr. James will discuss a recommended treatment plan with you, and you will almost always receive treatment on your first visit.
Our Services
At N.E.W. Chiropractic, PC in Palatine, IL, Dr. James offers a variety of ancient and modern treatments to restore alignment, increase range of motion, and relieve pain.
These include:
Traditional chiropractic care
Chiropractic Care: Adjustments
Traditional chiropractic care is a pain, recovery, and wellness treatment based on the interactions of the spine and nerves. One established method of treatment that Dr. James uses is called a chiropractic adjustment.
Chiropractic adjustments are often appropriate for people with:
Adjustments are procedures in which licensed and trained doctors (chiropractors) apply a controlled, sudden force to specific segments of the spinal column. Depending on your diagnosis, symptoms, and preferences, Dr. James may choose to make an adjustment with his hands. This is called a manual adjustment. Other times, he will use a small instrument called an activator.
After Chiropractic Care Adjustments
Many people feel wonderful after a chiropractic adjustment. They may be able to move better as blood flow is restored and muscles relax. Others may be a little tender after an adjustment, but it is not painful. In fact, chiropractic adjustments are known to relieve pain, better align your spine, and increase range of motion. They also can increase blood flow to the area, bringing more nutrients and oxygen.
After Your Chiropractic Adjustment
Follow Dr. James' instructions on what to do after your chiropractic adjustment. He will likely advise you to do the following:
Drink water.
Use ice or heat as directed.
Avoid poor posture or sitting for long periods of time.
Follow his advice regarding your level and types of work and activities.
Do physical therapy exercises/stretches he may recommend at home.
Get adequate sleep.
If you have any questions, be sure to ask Dr. James.
Office  Hours
Mon, Wed, Fri —4:00pm – 9:00pm
Tue, Thu — by Appointment
Saturday — 9:00am – 3:00pm
Sunday — Closed
Severe Pain?
Text Dr. James:
"When one area of the spine is in 'Dis-Ease,' other areas compensate for its lack of function. That's why it's important for us to treat the full spine."
Frequently Asked Questions (FAQs)